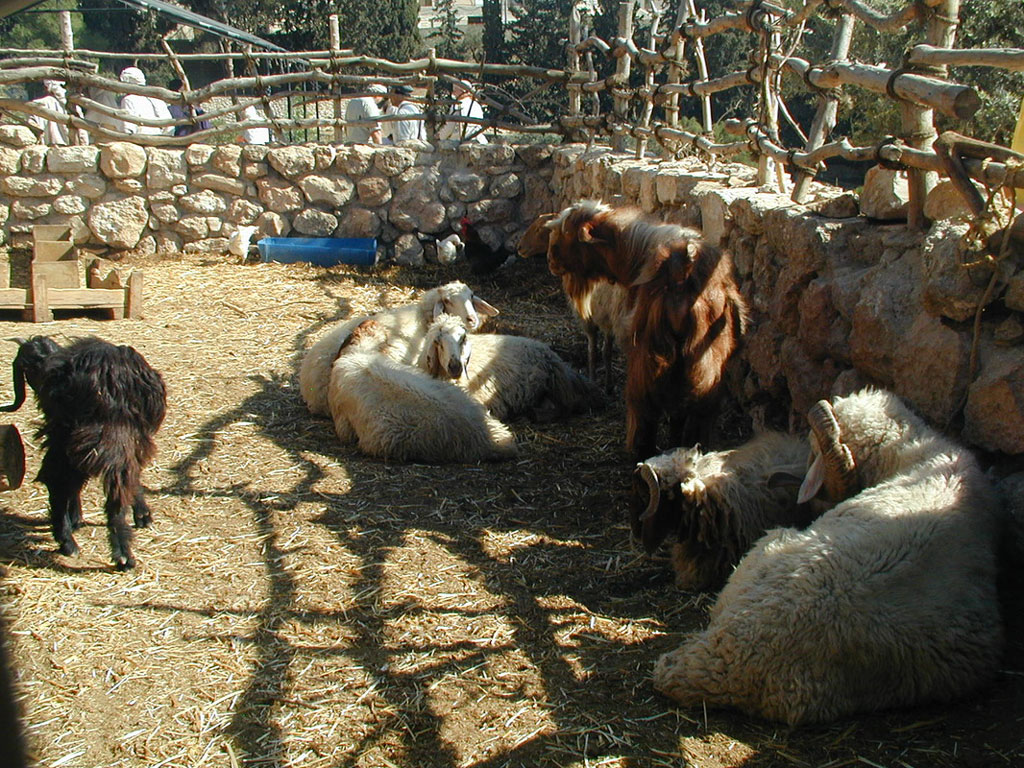 John 10:10 - Who is the thief?
John 10:10
The thief comes only to steal and kill and destroy. I came that they may have life and have it abundantly.
So, who is the thief?
You might be like me, in the text we are looking at today I grew up under a certain impression of who the thief was. It's got to be the devil, right! You know, Satan, the deceiver of the world, he wants to destroy our lives, he steals things from us like our joy, hopes, dreams, etc. So is Jesus saying Satan, a fallen angel, is he the thief being referenced here? No, actually the devil is not the thief, but rather within the parable being told the Pharisees are the subject, the thief. Jesus was telling the religious leaders of the day that they are thieves, that they are robbing the sheep pen.
To understand what is going on in this single verse, we must go back to the full context, which actually starts way back in chapter 8, but we pick the story up in chapter 9. In John 8:57-59 we see referencing to Jesus "blasphemy" in John 10:33 concerning the tensions between Jesus and the religious elect at this time, that is, Jesus claiming to be equal with God, which He is. We pick the story up preceeding John 10:10, that it is about a man blind since birth. I include the entire context below but the short story is Jesus heals a blind man, the blind man's neighbours brought him to the Pharisees, they do not believe him and call his parents (ouch), they say ask him because he is old enough, the blind man says it was Jesus who healed him. The Pharisees end up accusing the man of being a disciple of Jesus, to which the man be genuinely astonished ends up teaching the basics to the Pharisees and they hate him for it and cast him out.
Now, Jesus hears of this and finds the man, afterward he ends up believing in Jesus and truly receives faith to believe. But, the Pharisees are nearby and begin contending with Jesus, and Jesus condemns them. In the subsequent parable Jesus points out to the Pharisees that He (Jesus) is the true Shepherd. Jesus calls them a thief.
John 9:1-41 and continues through John 10:1-42
Here is the entire passage, it is taken from the ESV and I have removed the cannonical notation (verse markers/counters), so you can read it in full context. I encourage you to read it within the context as it was recorded for us and understand the overall picture as it was originally intended. Please do not believe me, check your Bible for youself and make sure I am not lying to you.
As he passed by, he saw a man blind from birth. And his disciples asked him, "Rabbi, who sinned, this man or his parents, that he was born blind?" Jesus answered, "It was not that this man sinned, or his parents, but that the works of God might be displayed in him. We must work the works of him who sent me while it is day; night is coming, when no one can work. As long as I am in the world, I am the light of the world." Having said these things, he spit on the ground and made mud with the saliva. Then he anointed the man's eyes with the mud and said to him, "Go, wash in the pool of Siloam" (which means Sent). So he went and washed and came back seeing.

The neighbors and those who had seen him before as a beggar were saying, "Is this not the man who used to sit and beg?" Some said, "It is he." Others said, "No, but he is like him." He kept saying, "I am the man." So they said to him, "Then how were your eyes opened?" He answered, "The man called Jesus made mud and anointed my eyes and said to me, 'Go to Siloam and wash.' So I went and washed and received my sight." They said to him, "Where is he?" He said, "I do not know."

They brought to the Pharisees the man who had formerly been blind. Now it was a Sabbath day when Jesus made the mud and opened his eyes. So the Pharisees again asked him how he had received his sight. And he said to them, "He put mud on my eyes, and I washed, and I see." Some of the Pharisees said, "This man is not from God, for he does not keep the Sabbath." But others said, "How can a man who is a sinner do such signs?" And there was a division among them. So they said again to the blind man, "What do you say about him, since he has opened your eyes?" He said, "He is a prophet."

The Jews did not believe that he had been blind and had received his sight, until they called the parents of the man who had received his sight and asked them, "Is this your son, who you say was born blind? How then does he now see?" His parents answered, "We know that this is our son and that he was born blind. But how he now sees we do not know, nor do we know who opened his eyes. Ask him; he is of age. He will speak for himself." (His parents said these things because they feared the Jews, for the Jews had already agreed that if anyone should confess Jesus to be Christ, he was to be put out of the synagogue.) Therefore his parents said, "He is of age; ask him."

So for the second time they called the man who had been blind and said to him, "Give glory to God. We know that this man is a sinner." He answered, "Whether he is a sinner I do not know. One thing I do know, that though I was blind, now I see." They said to him, "What did he do to you? How did he open your eyes?" He answered them, "I have told you already, and you would not listen. Why do you want to hear it again? Do you also want to become his disciples?" And they reviled him, saying, "You are his disciple, but we are disciples of Moses. We know that God has spoken to Moses, but as for this man, we do not know where he comes from." The man answered, "Why, this is an amazing thing! You do not know where he comes from, and yet he opened my eyes. We know that God does not listen to sinners, but if anyone is a worshiper of God and does his will, God listens to him. Never since the world began has it been heard that anyone opened the eyes of a man born blind. If this man were not from God, he could do nothing." They answered him, "You were born in utter sin, and would you teach us?" And they cast him out.

Jesus heard that they had cast him out, and having found him he said, "Do you believe in the Son of Man?" He answered, "And who is he, sir, that I may believe in him?" Jesus said to him, "You have seen him, and it is he who is speaking to you." He said, "Lord, I believe," and he worshiped him. Jesus said, "For judgment I came into this world, that those who do not see may see, and those who see may become blind." Some of the Pharisees near him heard these things, and said to him, "Are we also blind?" Jesus said to them, "If you were blind, you would have no guilt; but now that you say, 'We see,' your guilt remains.

"Truly, truly, I say to you, he who does not enter the sheepfold by the door but climbs in by another way, that man is a thief and a robber. But he who enters by the door is the shepherd of the sheep. To him the gatekeeper opens. The sheep hear his voice, and he calls his own sheep by name and leads them out. When he has brought out all his own, he goes before them, and the sheep follow him, for they know his voice. A stranger they will not follow, but they will flee from him, for they do not know the voice of strangers." This figure of speech Jesus used with them, but they did not understand what he was saying to them.

So Jesus again said to them, "Truly, truly, I say to you, I am the door of the sheep. All who came before me are thieves and robbers, but the sheep did not listen to them. I am the door. If anyone enters by me, he will be saved and will go in and out and find pasture.
The thief comes only to steal and kill and destroy. I came that they may have life and have it abundantly.
I am the good shepherd. The good shepherd lays down his life for the sheep. He who is a hired hand and not a shepherd, who does not own the sheep, sees the wolf coming and leaves the sheep and flees, and the wolf snatches them and scatters them. He flees because he is a hired hand and cares nothing for the sheep. I am the good shepherd. I know my own and my own know me, just as the Father knows me and I know the Father; and I lay down my life for the sheep. And I have other sheep that are not of this fold. I must bring them also, and they will listen to my voice. So there will be one flock, one shepherd. For this reason the Father loves me, because I lay down my life that I may take it up again. No one takes it from me, but I lay it down of my own accord. I have authority to lay it down, and I have authority to take it up again. This charge I have received from my Father."

There was again a division among the Jews because of these words. Many of them said, "He has a demon, and is insane; why listen to him?" Others said, "These are not the words of one who is oppressed by a demon. Can a demon open the eyes of the blind?"

At that time the Feast of Dedication took place at Jerusalem. It was winter, and Jesus was walking in the temple, in the colonnade of Solomon. So the Jews gathered around him and said to him, "How long will you keep us in suspense? If you are the Christ, tell us plainly." Jesus answered them, "I told you, and you do not believe. The works that I do in my Father's name bear witness about me, but you do not believe because you are not among my sheep. My sheep hear my voice, and I know them, and they follow me. I give them eternal life, and they will never perish, and no one will snatch them out of my hand. My Father, who has given them to me, is greater than all, and no one is able to snatch them out of the Father's hand. I and the Father are one."

The Jews picked up stones again to stone him. Jesus answered them, "I have shown you many good works from the Father; for which of them are you going to stone me?" The Jews answered him, "It is not for a good work that we are going to stone you but for blasphemy, because you, being a man, make yourself God." Jesus answered them, "Is it not written in your Law, 'I said, you are gods'? If he called them gods to whom the word of God came—and Scripture cannot be broken— do you say of him whom the Father consecrated and sent into the world, 'You are blaspheming,' because I said, 'I am the Son of God'? If I am not doing the works of my Father, then do not believe me; but if I do them, even though you do not believe me, believe the works, that you may know and understand that the Father is in me and I am in the Father." Again they sought to arrest him, but he escaped from their hands.

He went away again across the Jordan to the place where John had been baptizing at first, and there he remained. And many came to him. And they said, "John did no sign, but everything that John said about this man was true." And many believed in him there.
It is very clear that these are Jewish leaders that Jesus is making a reference to as "thieves".
Yours in Christ.