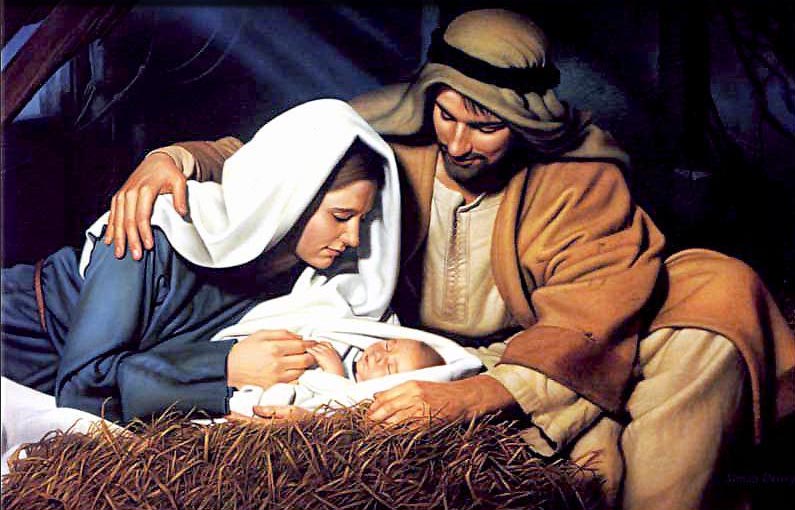 To us a Son and Saviour is given
God declares a coming Son
Genesis 3:11-15
11 He said, "Who told you that you were naked? Have you eaten of the tree of which I commanded you not to eat?" 12 The man said, "The woman whom you gave to be with me, she gave me fruit of the tree, and I ate." 13 Then the Lord God said to the woman, "What is this that you have done?" The woman said, "The serpent deceived me, and I ate." 14 The Lord God said to the serpent, "Because you have done this, cursed are you above all livestock and above all beasts of the field; on your belly you shall go, and dust you shall eat all the days of your life. 15 I will put enmity between you and the woman, and between your offspring and her offspring; he shall bruise your head, and you shall bruise his heel."
---
Isaiah prophecies of the coming Saviour
Isaiah 7:14
14 Therefore the Lord himself will give you a sign. Behold, the virgin shall conceive and bear a son, and shall call his name Immanuel.
God confirms the prophecy of Isaiah
Isaiah 9:6-7
6 For to us a child is born, to us a son is given; and the government shall be upond his shoulder, and his name shall be called Wonderful Counselor, Mighty God, Everlasting Father, Prince of Peace. 7 Of the increase of his government and of peace there will be no end, on the throne of David and over his kingdom, to establish it and to uphold it with justice and with righteousness from this time forth and forevermore. The zeal of the LORD of hosts will do this.
Our Saviour arrives
Matthew 1:18-25
18 Now the birth of Jesus Christ took place in this way. When his mother Mary had been betrothed to Joseph, before they came together she was found to be with child from the Holy Spirit. 19 And her husband Joseph, being a just man and unwilling to put her to shame, resolved to divorce her quietly. 20 But as he considered these things, behold, an angel of the Lord appeared to him in a dream, saying, "Joseph, son of David, do not fear to take Mary as your wife, for that which is conceived in her is from the Holy Spirit. 21 She will bear a son, and you shall call his name Jesus, for he will save his people from their sins." 22 All this took place to fulfill what the Lord had spoken by the prophet: 23 "Behold, the virgin shall conceive and bear a son, and they shall call his name Immanuel" (which means, God with us). 24 When Joseph woke from sleep, he did as the angel of the Lord commanded him: he took his wife, 25 but knew her not until she had given birth to a son. And he called his name Jesus.
Luke 2:11
11 For unto you is born this day in the city of David a Savior, who is Christ the Lord.